The third-largest treatment facility in Alberta, our plant meets the wastewater and sewage needs of more than 300,000 residents within 13 municipalities in the Capital Region each day. The wastewater is treated to remove and reduce contaminants, allowing it to then be released as clean water into the North Saskatchewan River.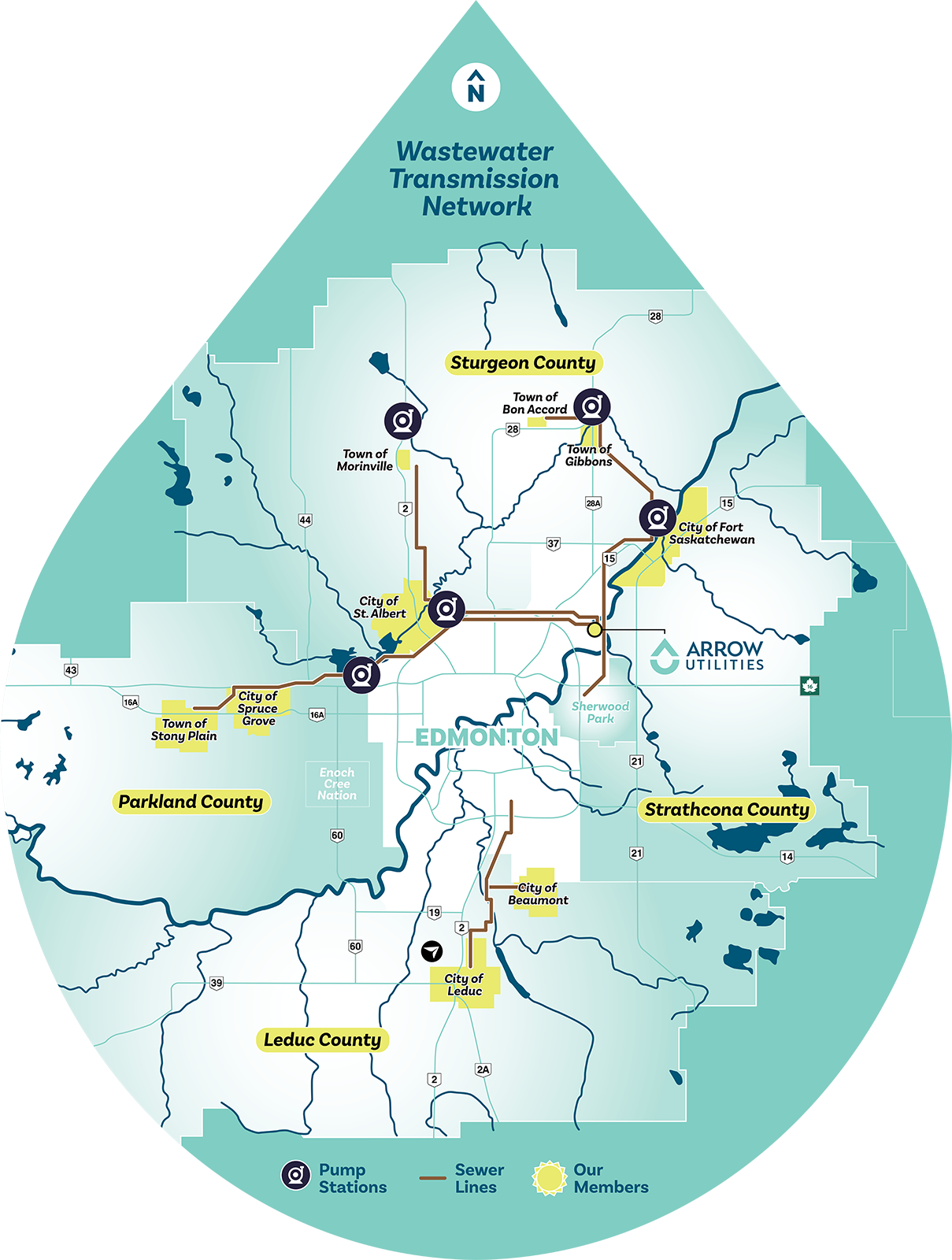 The ARROW Utilities transmission system consists of 138 km of gravity sewers, ranging from 525 to 1,500 mm in diameter, 58 km of pressure pipelines (force mains) of 500 to 900 mm in diameter, and five pump stations. This pipeline network is longer than the distance from Edmonton to Red Deer.
This system moves wastewater to the ARROW Utilities Wastewater Treatment Plant from member municipalities in the west, north and east sections of the region. It also transports wastewater from the south members (the City and County of Leduc and the City of Beaumont) into the City of Edmonton system for treatment. In exchange, the plant takes wastewater from Clareview in northeast Edmonton and from the Clover Bar Industrial Area.
The Wastewater Treatment Plant (WWTP), located in Strathcona County near Fort Saskatchewan, is a state-of-the-art wastewater treatment facility that uses biological processes to produce high-quality effluent. The plant reduces the oxygen demand of the effluent and removes solids, phosphorous and nitrogen from the wastewater. Effluent is disinfected by ultraviolet light before discharge to the North Saskatchewan River. The wastewater treatment process requires several steps to ensure public safety and environmental protection.
Five large-capacity wastewater pumping stations are located throughout the regional transmission system. This is where domestic wastewater is accepted from residential homes and industrial, institutional and commercial facilities that are not connected to a sanitary sewer system.
The removal and reduction of contaminants is completed through the combination of physical, chemical and biological processes at the ARROW Utilities wastewater treatment plant. Removing these contaminants results in the preservation of the aquatic environment of the North Saskatchewan River and the prevention of transmission of water-borne disease.
Following treatment at the plant, what started out as wastewater is discharged as clean water into the North Saskatchewan River basin and the aquatic ecosystem all the way to Lake Winnipeg and Hudson Bay.